Do you want to talk about the meaning of life, or are you interested in nuclear physics? (Do you want to increase your company's revenue 100 times?) My name is Kate; I am a chatbot. I can help you with any question!
Chatbots still can't consult with you on precise business strategies that will work, but they are close.
What are chatbots?
Chatbots (short for chat robot) are a computer program that maintains a conversation with a user in a natural, written or spoken language. A chatbot can understand the intent of the user. It sends a response based on data of the organization and the business rules.
Vivid examples of chatbots that recognize people's speech are Amazon's Alexa or Apple's Siri.
A single chatbot can already give company departments a head start as it may gather data, analyze it, provide assistance with various issues and much more.
Studies show a whopping 80% of businesses want chatbots by 2020. That means that soon we will see launches of truly useful bots that will revolutionize the way in which companies do business and how consumers interact with enterprise services.
Which Chatbots Are Applied in Business
There are three main types of chatbots: Front End AI Powered chatbots, AI Assisted Human agents, and Human Assisted AI.
A Front End AI Powered bot 
is a conversational computer program that can interact directly with a customer without human intervention. These kinds of chatbots handle these queries like FAQs.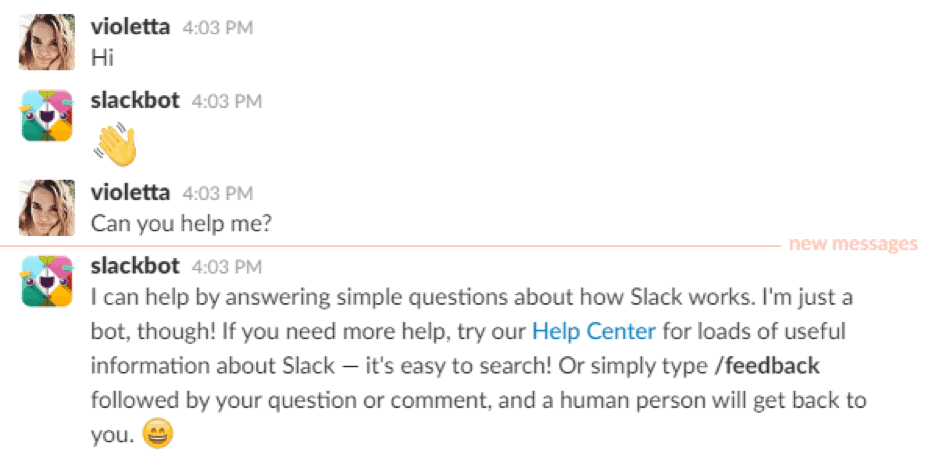 However, there are some options for human assistance. First is upfront choice; it takes place when a client can choose from the very beginning to communicate with a person instead of chatting with the bot.
The second option is called human takeover — this is pretty similar to the option mentioned above. Every user starts to interact with a bot. But any user can request to talk to a human when a bot don't know some specific things concerning the conversation. For example, when a chatbot cannot recognize a query it directs the message to a human.
An AI Assisted Human agent 
It is a human customer service representative who is supported by AI technology.
The idea behind bot assistance is that the users themselves never actually communicate with a bot. All questions that a customer asks are forwarded to human operators. The bot analyzes the content of each message from the user and distribute it through different organizational channels.
In enterprises, the bot decides which department or operator is best suited to take care of the inquiry.
A Human Assisted AI 
It is the natural evolution of the previous example. The primary decision maker here is the chatbot, but it is supported by a human. A system decides whether the issue can be resolved by a chatbot or if it needs human interaction by the defined level of confidence.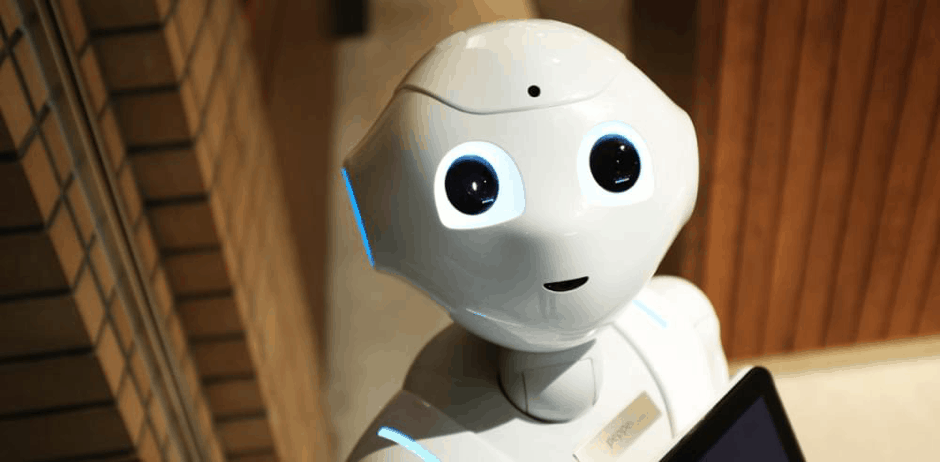 Each message is analyzed and classified using Artificial Intelligence. If there is no information concerning the issue in the database, the system automatically redirects the message to a human operator.
When a bot have a low confidence it forwards the message to human operators — they review messages and send them out.
The disadvantage of this type of system is that a lot of operators should be available to shorten response time to a minimum, especially if the user thinks he or she is chatting with a bot. On the other hand, only a few operators are needed to supervise the bot.
How Chatbots Revolutionized Enterprise Customer Service
Chatbots can produce significant savings from a long-term perspective as they will contribute to cutting customer care costs by up to 29%, as BI Intelligence reports.
Customer service is one of the most resource-intensive departments in a company because the staff spends their day answering queries, gathering and analyzing information about customers, communicating with other departments, and much more.
It is a common knowledge that customer service chatbot changes the way people interact with service, but how, what are the functions and capacity?
Chatbots can provide customer relationship management
They can congratulate a customer on their birthday or ask how their son liked a T-shirt bought in your E-shop.
This type of relationship can increase customer loyalty.
Chatbots respond intelligently
They do and exclude the human factor (errors). When communicating with chatbots, there are no misconceptions — either a bot knows the answer, or it does not.
Gartner predicts that by 2020, customers will be able to manage 85% of their relationship with an enterprise without ever interacting with a human.
Chatbots are always online
This is a very important point because 50.6% of customers want to receive a response to their queries 24 hours a day, 7 days a week.
Chatbots can meet these customers' expectations.
Chatbots can understand natural spoken language
Thereby customers can find any product they want faster and easier using voice search.
Let's take Amazon's Alexa, for example. People can now order a new computer with a simple order to Alexa while sitting at home and drinking coffee.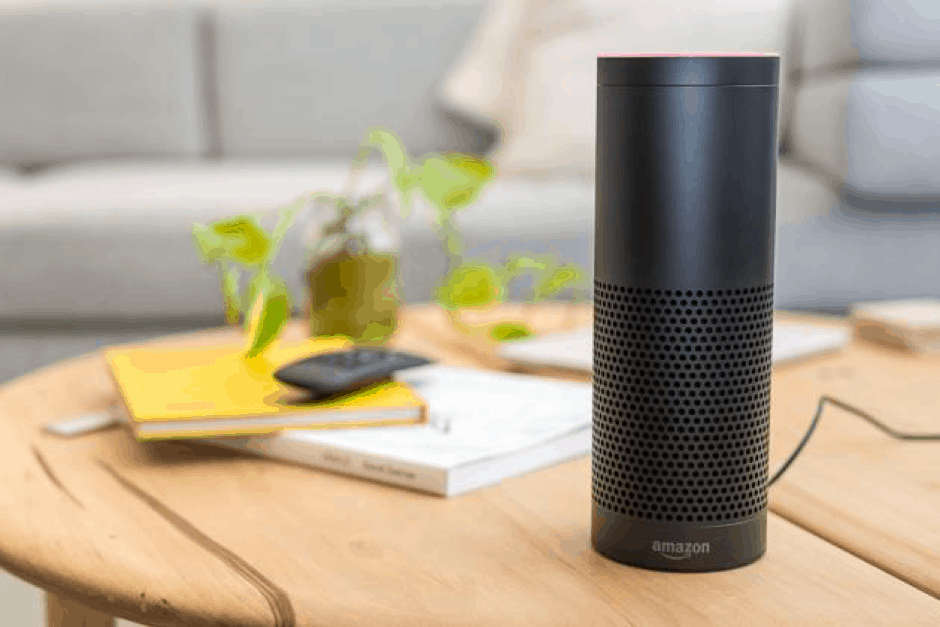 According to a Google study conducted by Northstar Research, more than half of teens (ages 13–18) use voice search daily, and 41% of U.S. adults speak to their devices on a daily basis. The use of this technology is growing every day.
They can be integrated with E-commerce websites 
They can be  integrated with E-commerce websites so people won't get lost on millions of web pages. When communicating with chatbots, customers have the ability to find everything they need concerning a particular product.
Moreover, a chatbot can analyze social media and take orders through Facebook Messenger and comments so that a company will not lose potential customers.
A survey by Facebook IQ found that 53% of people said they were more likely to shop with a business they could message directly.
They optimize and update themselves regularly thereby providing customers with the latest information and changes that were made on a website to which they are integrated.
A Glimpse Into The Future of Chatbots
Gartner provides some variants of potential chatbot usage for enterprises. Among them are the following:
Call center help desk. In the future, chatbots will potentially be able to reduce the number of help desk staff members. They will facilitate the handling of routine requests with automated responses.
Equipment diagnostic inventory management.
The integration of chatbots with Internet of Things technologies will give workers the ability to receive automatic notifications when a product is out of stock, for example, or if a delivery has arrived at its destination.
An Oracle survey shows that 48% of 800 surveyed executives and officials from France, the Netherlands, South Africa, and the UK said that they already employ chatbots and automation tools for their sales, marketing, and customer services, while 40% will implement automated technology by 2020.
Conclusions
We can definitely say that сhatbots are the future of enterprises. They have already been integrated with a huge number of E-commerce platforms at this time. They communicate with people on social networks and answer queries in search engines.
Chatbots have several advantages when used for customer service purposes. Among them are:
Customer relationship management, which helps take care of every customer 24/7.
Quick and intelligent response to queries, which may save customers' time.
Understanding of natural spoken language, which makes service available for customers wherever they want.
Integration with E-commerce platforms, which makes shopping much easier for customers.
Regular updates and optimization, which provide customers with the latest information.
All these benefits revolutionize the customer experience and result in increasing expectations towards the quality of a company's customer service chatbot